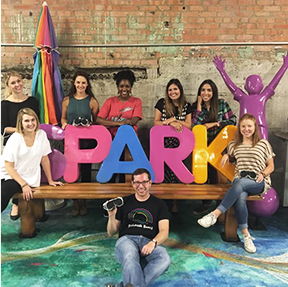 When we ask our colleagues what makes Ketchum special, we always hear "our people." We have created a culture that exemplifies the best in each of us, allowing employees to bring our best, most creative work to clients. We understand that employees feel empowered when they feel like they belong.
We also strive to be culturally and ethnically representative of our communities and reflect the consumers our clients want to reach. At Ketchum, we believe each and every person is unique, and that working together as a group, we are powerful indeed.
Workplace flexibility at Ketchum means you can work wherever you work best. We are committed to ensuring you have the flexibility you need.
So, what does this really mean? Are you interested in taking an afternoon yoga class? You can do this without having to take a half-day—no problem. Do you want to get away for a long weekend, but have work commitments that requires you to work on Friday? You can work virtually—no problem. Do you have a lot of work that could be best done from your couch—no problem. Are you taking a vacation and want to stay an extra week to experience what it's like to "live" in the city? You can work virtually—no problem.
Experience our flexible culture for yourself!
Come find the role that's right for you
Perks

+

Benefits:
Robust benefits package
Generous time-off policies
Retirement program with company match
Workplace flexibility
Workplace and off-site social gatherings
Our drink cart is a real crowd pleaser
Occasional meditation, yoga, mani/pedi, chair massage & other perks
Professional learning and development opportunities
Career growth opportunities
Tuition reimbursement
Paid parental leave
Transit benefits
Snacks, because creating award-winning programs requires fuel
We offer more for your career
Ketchum University
One of the best Learning and Development programs in the communications industry. We believe that learning and development is key to our success, so we are committed to investing in our talent. In addition to our brilliant in-house university, we offer state-of-the-art, gamified learning programs to continuously develop our talent.
Global Connectivity<br/>

+

Opportunity
We're dedicated to ensuring all employees have the information and resources they need to excel at their jobs. We keep our culture connected through Workplace by Facebook, monthly meetings with our CEO, Mike Doyle, and our internal communications hub, George.
Offices Around<br class="hidden-xs"> the World
Ketchum has <strong>employees</strong> in more than <strong>70 countries</strong> across <strong>six continents</strong> servicing over one-third of the globe's biggest brands. We work with all kinds of clients, from the Fortune 500 to emerging start-ups. Our scale also means we can invest heavily in nurturing our talent through learning, fun, travel and rewards.
A Chance to Give Back
Corporate responsibility has always been a part of our DNA. We believe we have a responsibility to contribute to our communities and encourage our employees to do the same. One way we do this is through our longtime pro-bono partnership with Room to Read. KSR Month, our global month of service, is dedicated to giving back to our communities across the globe. Download our most recent KSR Report here.